Teaching Grammar to Dislexic Children: Some Ideas
Daniela Tomatis, Italy
Daniela Tomatis is a Middle School English teacher at Scuola Media Villanova Mondovì and a teacher trainer. She is interested in vocabulary teaching, memory techniques, technology, blended learning and web2 tools.
Blog: http://themachinegoeson.blogspot.com
E-mail: dan.ro@tiscalinet.it
Menu
Introduction
Teaching personal pronouns and the verb "to be" with Cuisenaire Rods
Activities
Conclusions
References
Students with dyslexia can be a great challenge for teachers of English as a second language. Keeping in mind that a dyslexic student:
can be a positive, contributing, and valued class member,
is an intelligent person who does not learn 'by doing' in the same way as others,
often has trouble remembering,
and that what is good practice regarding learners with a disability, is generally good practice for ALL learners, here are some ways to teach grammar (at a very basic level) which can be worth trying in class. In particular, the following activities:
aim at overcoming poor short-term memory (by providing the use of mnemonic strategies for recalling),
appeal to different learning styles (by being multisensory),
aim at improving poor information-processing (by using colour coding).
Cuisenaire Rods are effective tools for teaching a great deal of language points. Exploiting their different colours, and using the Silent Method (that is eliciting from the students , the teacher speaking as little as possible) they can be used for presenting the subject personal pronouns

Then, to stress the fact that WE, YOU, THEY are plurals, two rods are used to represent them.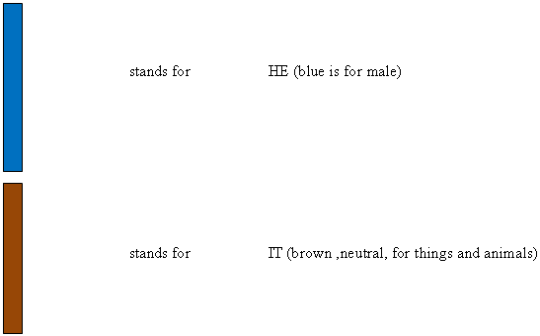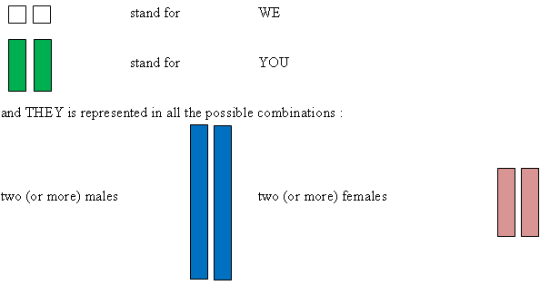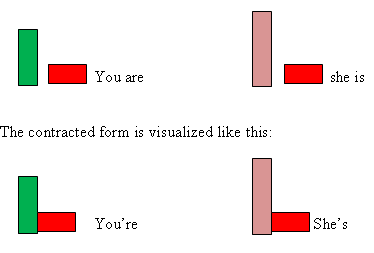 Next step, the auxiliary "be" is introduced, which is represented by the RED rod. And this is for the affirmative form (just two examples for "you" and "she")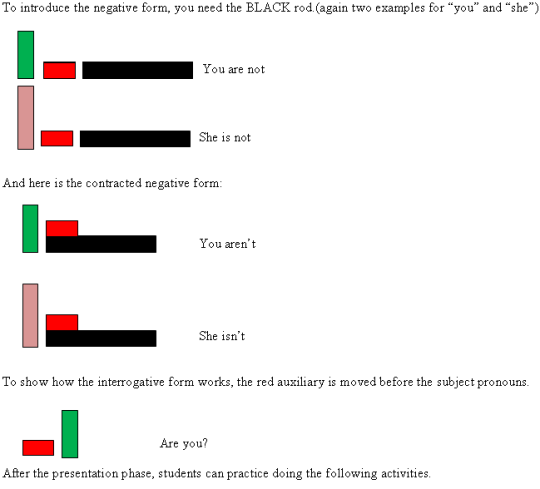 ACTIVITY 1
Students need their own set of Cuisenaire Rods (In Italy , they usually have one each because they use rods to learn Maths).
The teacher shows the students some pictures representing things, men, women and they have to hold up the corresponding rod saying the right pronoun.
ACTIVITY 2
The students work in pairs and they test each other showing rods in turn.
ACTIVITY 3
The teacher writes sentence in students' language on the blackboard (very basic sentences , that is subject + verb to be + object). First, the students have to build the sentences on their desk (translating "into rods") and then they write the sentences down in English on their notebooks. The teacher makes it clear that the subject and the verb are not one thing, but two separate parts of the discourse, and they can touch them.
ACTIVITY 4
The teacher writes some sentences on the blackboard and the students have to rewrite them replacing the subject with the correct personal pronoun and drawing the correspondent rod. For example:
Paolo and Francesca are friends
Villanova is a small town
The Math teacher is 30 years old.
ACTIVITY 5
Students have to build questions using rods to get some yes/no answers the teacher has written on the blackboard.
No, I'm not. I'm Italian Yes, he is. Yes, they are under the table
ACTIVITY 6
Students come to the blackboard and stick rods, using blue –tack, and forming sentences for their classmates to translate.
For some children it is very important to have "handy" grammar explanations, things they can touch and manipulate to make abstract grammar concepts more concrete. That's why rods and colour coding can be a simple but very effective way to link all the pathways to the brain in the learning situation.
"Cuisenaire Rods and Silence" Tim Hahn www.developingteachers.com
"La Dislessia" Giacomo Stella , Il Mulino, 2004
"Foreign Language Learning and Dyslexia" Margaret Crombie
" Insegnare Inglese ai dislessici: aspetti problematici e strategie di intervento" Gisella Langé.

The Methodology and Language for Primary Teachers course can be viewed here
The Special Needs and Inclusive Learning course can be viewed here