Fiction in Action: Whodunit
Marcos Benevides, Japan
Menu
Geeting in touch
World's first free-to-share English language teaching textbook
Pay on the honor system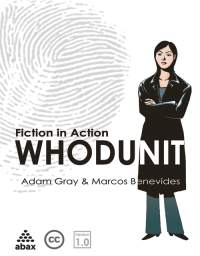 Co-authors Adam Gray and Marcos Benevides have launched a new experiment in commercial textbook distribution by publishing their new ELT reading course, Fiction in Action: Whodunit, under a Creative Commons license. The title is available both as a complete, free-to-share PDF eBook edition, and as a traditional print edition. Both are available through publisher Abax.
Teachers who download the PDF edition can print it out, share it with colleagues, even try out the whole course in class before paying. If they like it, teachers are encouraged—but under no obligation—to either pay a fair amount for their use of the work through the abax.net website, or simply order the print edition in future semesters, as they would any other textbook.
The eBook edition of Fiction in Action: Whodunit is available at <www.abax.net>. Users are given the option to pay any amount they like for their PDF copy, or to simply download it for free to try out first. There are no strings attached. If you like the book, simply pay an amount that you think is fair, starting at one US dollar. In the words of the authors, "How much do you usually pay for a reading coursebook? Is ours better or worse? Will you use the whole thing or only half? Do the math. We trust you."
"Of course, we do appreciate the risks," they add. "If no one pays, we will have worked thousands of hours for free, and the publisher will lose a sizeable investment. In that case, everybody loses, since other authors and publishers might be unwilling to try something like this again. Some teachers love characterizing textbook publishers as too rigid, too unwilling to take risks or innovate - well, here's the chance to put your money where your mouth is. By helping us make this experiment a success, you can make a direct contribution to innovation in the industry."
According to the authors, teachers will also be doing two other important things: helping to keep these materials available for free or at a fair price for teachers and students in developing countries who otherwise could not afford them, and teaching their own students the importance of being responsible consumers in the digital age.
Creative Commons, a non-profit organization, was created in 2001 to provide greater licensing flexibility to creative works of all kinds. The Creative Commons cause is championed by a number of progressive artists and organizations, including Wikipedia, TED Talks, Flickr, Nine Inch Nails, and bestselling author Cory Doctorow.

Please check the How to Use Technology in the Classroom course at Pilgrims website.
Please check the Creative Methodology for the Classroom course at Pilgrims website.