Would you like to receive publication updates from HLT? You can by joining the free mailing list today.
Humanising Language Teaching
Year 6; Issue 2; March 04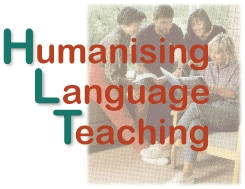 Year 6 Issue 2
March 04
Editorial

The British Council teaches English and Open- mindedness
The Feast that awaits you in this Issue



Major Article

1. Language Impaired?
Claire Thomas Ozel, Middle Eastern Technical University, Ankara, Turkey

2. Motivation II: Paths to Motivation secondary and adult
Ian Tudor, Universite Libre de Bruxelles, Belgium
( this article is a feast of practical, motivational exercises)

3. The Shape of Intuition
Robert McNeer, Italy


Jokes

1. A "third conditional joke secondary and adult
The American Golfer
Adrian Birtwhistle, Spain

2. I wish….+ conditional secondary and adult
The Old Woman's Three Wishes
Adrian Birtwhistle, Spain


Short Article

1. Sharing stories: volunteer Teacher Training in Nepal
Richard Cooper, London, UK

2. You speak what you like bi-lingual rearing
John Yamamoto Wilson, Sophia University, Tokyo, Japan

3. London, UK, boasts a specialised ELT Library
John Bevan, St Giles, London, UK

4. The Farmer and the Teacher
An Allegory Henk van Oort,

5. Coping with Exam Stress- a sequel secondary adult
Judy Churchill, France

6. Drama: simply performing or more? infants primary
Marisa Agostinelli, Italy

7. Theater Games primary secondary adult
Entering the Creative Space in Language Instruction
Jane Pahr, British School, Trieste, Italy

8. The Heart of the Matter Learning to teach by learning a Language adult
Lou Spaventa, Cal, USA

9. Roles of NESTS and Non-NESTS in the Language classroom- are they the same or different?
( NEST= Native English Speaking Teacher)
Eva Homolova, Matej Bel University, Slovakia




Ideas from the Corpora

Chaving another Person's Story secondary adult
Simon Marshall, Pilgrims, UK


Lesson Outlines

1. Student Generated Revision Questions upper secondary and adult
Chaz Pugliese, Paris, France

2. Sounds- A Vocabulary Exercise late primary secondary adult
Chaz Pugliese, Paris, France

3. Three French Brain Twisters secondary adult
Marie Agrell, France


Student Voices

My Teacher taught me how to teach
Francoise from Burundi,
Interviewed by Simon Marshall in S.Africa


Publications

The Courage to Teach
Exploring the Inner Landscape of a Teacher's Life
Parker J. Palmer, Jossey-Bass Inc, Cal,1998

Transforming Learning
Introducing SEAL Approaches
primary, secondary, adult
Compiled by Susan Norman, Saffire Press, 2003
Reviewed by Mario Rinvolucri

Stories secondary and adult
Narrative Activities in the Language Classroom
Ruth Wajnryb, Cambridge, 2003
Reviewed by Mario Rinvolucri


An Old Exercise

Grouping Words in Threes secondary adult
John Morgan, from first edition of Vocabulary,
Oxford, 1986. (New, enlarged edition now available)


Pilgrims Course Outline

New, Affordable Language Classes (at long last!)


Readers' Letters

Two Letters from Israel
How one Reader uses HLT


Teacher Resource Books Preview

Confidence through Speaking Drama Activities secondary and adult
David Heathfield
Preview of Spontaneous Speaking, forthcoming with DELTA BOOKS in late 2004


Previous Editions

View previous editions of Humanising Language Teaching, locate particular articles and authors, or search for a particular topic.