Editorial
This article appeared first in 'Face2face and Online – Getting the Balance Right', mELTing pot Extra, the publication if IATEFL-Hungary, October 2009
Teaching and Learning for Both the Present and the Future: 21st Century Skills and the NING Classroom
Lívia Faragó, Hungary
Livia Faragó (MEd, Leeds) works as a practising primary school teacher of English, freelance teacher trainer and educational expert. She has been involved in several curriculum development projects, runs in-service teacher training courses both in Hungary and in an international context. Her special interest lie in holistic approaches in education, teacher development, curriculum and materials design, school leadership and educational management. She is currently doing her PhD studies at ELTE University, Budapest. She is the president of IATEFL-Hungary.
E-mail: faragol@yahoo.com
Menu
Introduction
Challenges in education
21st century skills
NING community in the classroom
Challenges with integrating technology and the NING site in teaching
A brief account of using NING in the training context
This article aims at raising some challenges our profession faces these days, considering some aspects that can help us identify necessary skills to be developed in the 21 century and at sharing experiences with a tool that can be helpful to enhance the development of these skills in a stimulating way. The paper will give you an account of our work with a free community network called NING and consider several questions which have emerged during its use.
Social, economic and technological changes on a global scale are challenging traditional forms of knowledge and educational practice. Change involves all elements of the teaching-learning process: learners, materials, applied methodologies and processes, the learning environment as well as the wider teaching context.
Schools and teachers need to cope with new challenges and expectations coming from different directions. Local and national authorities promote innovations and new initiatives to be introduced in the school system in order to enhance the level of student achievement and maintain accountability of schools. Moreover, disturbing voices keep coming from the workface expressing that there is a significant gap between what learners learn at school and what is needed at workplaces today.
In the atmosphere described above, reflective teachers start wondering about how they should react to the various challenges and different expectations. Several questions might arise: How should we change? In what areas? Or to take one step back: what should we prepare our learners for? How can we prepare them for a future that can not be foreseen? Children who start school this year will leave universities in about 2020 and we cannot even imagine what society they will live in then, what technologies they will apply in their future professions which may not even have been created yet. In addition to all this, we should not forget that the role of education cannot merely be to prepare learners to land lucrative jobs as well as simultaneously assist them at being successful at them. Education should serve a much more holistic and universal goal which helps each individual develop and nurture their talents for both themselves and others to benefit from.
While trying to find my way out of the masses of questions like the ones above and investigating what different stakeholders expect schools to prepare learners for I found that several institutions, non-profit educational centres and companies alike name similar skills as necessary skills that successful workers would need to possess in the future. These skills are often referred to as 21st century skills and they include
Critical Thinking
Creativity
Teamwork
Cross-Cultural Understanding
Communication
Technology
Self-Direction
Items on this list might look familiar to English language teachers as they have appeared as elements of good practice for several years. This finding can be a relief for us. However, this list can give us an opportunity to take a fresh look at it and think about new ways of developing them in an integrated way using technology.
To start our systematic work with technology, I chose to create a virtual classroom called NING as it seemed to offer several opportunities to exercise and develop skills on the list above.
In February 2009, with a group of 12 -year -olds we set up the first NING classroom. Since I was quite new to the challenge and had basic experiences with the tool myself, I decided to involve some computer fans from the group before introducing the idea of working on the new platform to the class. When asking two boys to have a look at the site at home they immediately googled 'ning' on their mobile phones and nodded saying they knew what to do. One of the 21st century skills, 'self direction' from the list above was immediately practised by one of them as he created the NING site for the whole class by the next lesson. Some children started to personalize their individual pages very soon using their creativity. Apart from making their personal pages (see Pictures 1 and 2) colourful and attractive, they uploaded their photos or videos on the site for others to see.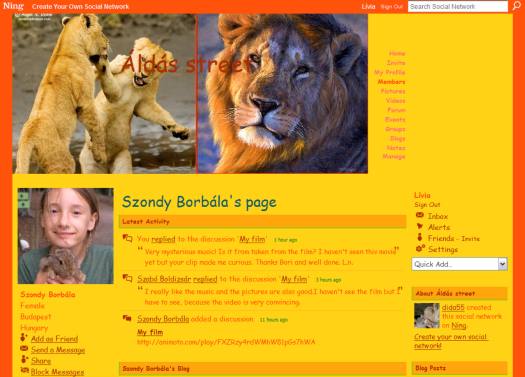 Picture 1: Personal home page on NING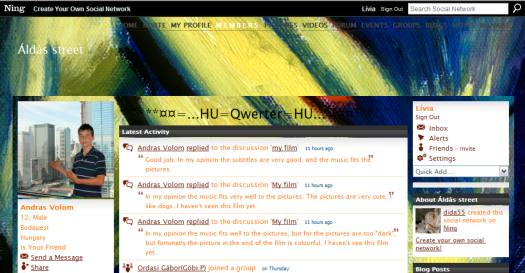 Picture 2: Personal home page on NING
The topic we were covering in the lessons was that of 'communication' at that time so we decided to do a project around that topic area. Project products had to involve ICT and they were presented orally before uploading them to the NING site. The task was carried out in pairs or small groups and the planning phase also involved the use of ICT. Cooperating with the ICT teacher at school we asked learners to plan their projects, consider its aims, schedule, resources they needed etc. The presentation of the plan was a Word document involving plain texts, tables and images inserted within the text. Creating documents of this kind and developing word processing skills was part of the syllabus of the subject of computer studies and also forms as one of the 21st century skills. As an end-product of the project learners came up with technology-based media presentations such as Powerpoint presentations or video recordings which were dealing with different aspects of communication. One example of this was a Powerpoint slide show considering the differences in Japanese and Hungarian use of body language in counting or giving simple instructions (see Picture 3).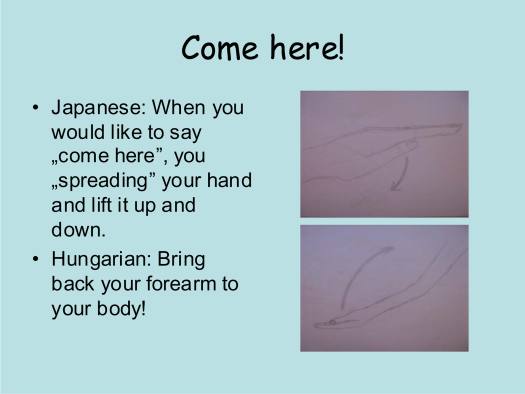 Picture 3: Difference in body language in Japan and Hungary
Another pair decided to focus on underwater communication of divers and video recorded themselves showing signs and interpreting their meanings (see Pictures 4,5 and 6).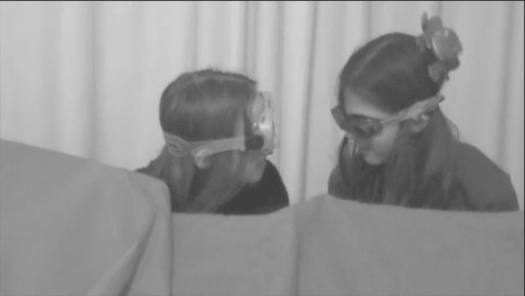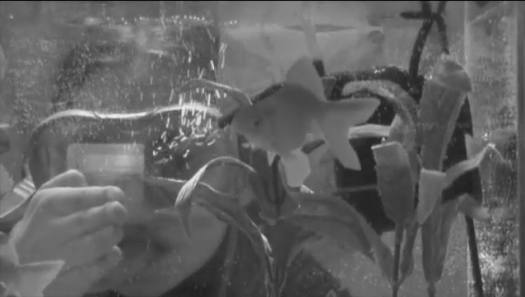 Pictures 4, 5 and 6: Shapshots from the video on underwater communication
After the oral presentations, all work was uploaded to NING and learners could comment on each other's work. During the process of project work almost all 21st century skills were used especially teamwork, creativity, cross-cultural understanding communication, self-direction or critical thinking. Another task that involved skill development was that of making visual film reviews. Learners used Animoto (www.animoto.com) to create short individual video clips with scripts and music to introduce their favourite films. After uploading and watching them on the NING site we learned several ways of giving feedback on each others' work, expressing opinions in a polite and positive way.
The site has become a springboard for more traditional language skills work, as well. After having worked on a set of new vocabulary it became a custom to have one learner create flashcards on the Quizlet (www.quizlet.com) site and embed it on our site which with a click took everyone to the place where they could learn, practise and test their vocabulary (see Picture 7).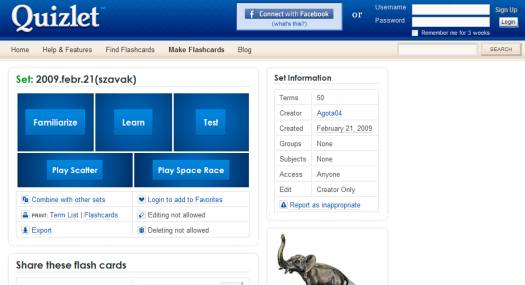 Picture 7: Quizlet page for learning and practising vocabulary
The forum area was also used to keep a record of tasks and homework which was helpful not only for those who do not note them down properly in the lessons, but also for learners missing from school.
Communication, changing ideas and opinions in writing was encouraged by adding new topics to regularly exchange ideas about on the Forum. They were partly thematic eg. Easter or related to the topics emerging in the lessons.
Learners' motivation could be traced by the appearance of new and new topics created by them on the Forum area. Themes covered areas of their interest such as different mobile phones or internet applications. According to our earlier agreement, the language of communication on the site was English.
With more and more content appearing on the site, our NING platform was turning into a kind of class portfolio giving an account of our activities carried out throughout the months and showing our progress. The element of highlighting achievement and success was invaluable to keep up motivation and bring the feeling of satisfaction to the teaching and learning process.
Having the NING classroom also added to our feeling part of our own community and belonging to the group. While working on the site we shared several experiences, we could discuss challenges we faced on the site and very often learners could help the teacher to solve certain technical problems on the platform. This enriched the relationship among learners and with the teacher and brought more emotions into the teaching which made learning and teaching an even more enjoyable experience.
While our experience with the NING classroom was extremely positive, there are some issues and questions worth raising for further thought.
Giving homework that needed NING proved to be problematic sometimes. Slow internet connections at home, temporarily ill-working computers etc. gave us some hard times. Alternative ways of doing homework in exercise books could help but it also exceeded the workload and the attention from the teacher.
The involvement of parents in the idea of using NING seems to be important. They should understand the rationale and aims behind using NING in the classroom. This way we can ensure that they do not just see it as a trendy new way of working that keeps learners in front of the computer for even longer than before.
Involving and keeping the school management informed about our work and successes with NING also seems to be necessary. Some school masters, heads of departments, especially if they do not use technology in teaching themselves, cannot see the point in its application and can develop negative attitudes towards it.
Asking learners for continuous feedback on their experiences with working on the site is an important tool to get useful information and to develop our practices. Many learners already use several Web 2.0 applications outside the classroom and might have good ideas to explore and make a better use of the opportunities NING can offer to us.
Working with NING, or any other new tools in your teaching, needs time, energy, patience and sustainable effort. When starting to use it we will inevitably face problems, experience failures, everything seems too slow and complicated. However, when we get over the first phase of difficulties and experience successes, it gives us more energy and motivation to go on and experiment with the new tool.
I find that technology will not be a solution to our problems in teaching, neither will it substitute careful planning, good management and reflective practice. However, it can offer us new routes to take, new adventures to participate in and can place us in a better position to make informed decisions towards developing 21st century skills in our classrooms.
In the summer of 2009 I had the opportunity to experiment with the NING social network in an international teacher training context, as well. I set up a community site for a group of 17 practising teachers arriving at Pilgrims teacher training centre in Canterbury, UK. They came from Austria, Italy, Portugal, Poland and Spain and took a course on teaching young learners between the ages of 6-12.
I decided to introduce the idea of having a 'virtual classroom' alongside our real one on the very first day of the course which was easy to organise as the room was equipped with a PC, projector and internet connection. The beauty of having the site up and running at the beginning of the course was that participants could follow and experience the development of the site throughout the two weeks and they could observe how it was turning into a kind of 'group portfolio', a rich resource bank, a reflective diary and a social area for sharing ideas, thoughts, teaching tips or nice memories as a result of their contributions and activity. Some participants brought their cameras to class and started to upload photos and materials that they themselves created in the workshops (see Picture 8).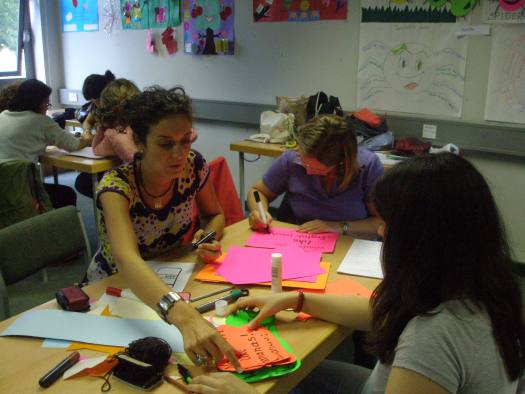 Picture 8: Writing and making storybooks
Following the purchase of a 'sophisticated' web camera we could add video recordings of group presentations, songs and rhymes performed in the sessions (see Picture 9).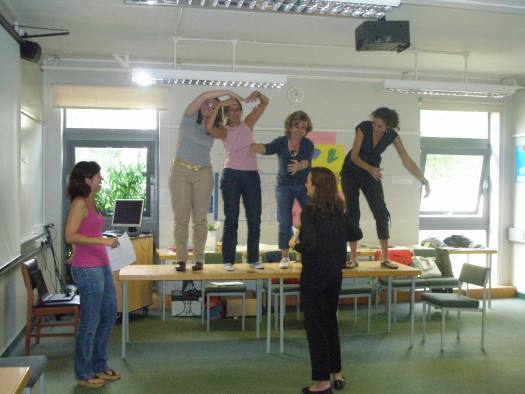 Picture 9: presenting a story in a multisensory way.
We thought it would help teacher recall their favourite pieces of children's literature that they learnt during the course and would find difficult to remember months after the course came to an end. We organised resources on the site into topics on the Forum area which were extended day by day as teachers got more and more involved in the idea of working with and on the site and creating and sharing content. To support this we spent a whole morning in the computer lab where we learnt how to import videos from YouTube, embed other sites in NING or use its functions in a creative way. As a last step in the lab we also learnt how to set up a NING site for their own classes at home in the future.
Our 'growing' site gave us a wonderful opportunity to revise content from previous days and reflect on what we have been doing during the course so far that which was to make progress more 'visible' and noticeable. Awareness raising was also helped by the blog option on the site where participants could write their personal thoughts and feelings about the course. These learning logs proved to be helpful to trace professional growth
A very nice and unexpected effect of our work with NING was that other courses started to take interest in the idea and towards the second week we set up two new NING classrooms for other courses at Pilgrims. What is even more exciting is that there are still a lot of ongoing member activities taking place on the site today – long after the courses ended… participants go on writing to each other, sharing pictures of joyful moments, materials and ideas and keep on learning from each other. Isn't this what summer courses should be about?

Please check the How to Use Technology in the Classroom course at Pilgrims website.