Letter 1
Editorial
This text refers to major article Foreign Accent Problem of Non-native Teachers of English by Ali Karakas, Turkey, HLT magazine, Year 14; Issue 5, October 2012
Dear Hania,
(…) I am very grateful to you for the regular emails of the HLT Magazine and the messages. I have got so used to this Magazine that it accompanies me in my classes virtually every time. Thank you.
(…) Congratulations to the author who has come to grips with a very sensitive problem in ELT, which is especially obvious now when Standard English in teaching and, still more, standard pronunciation, has become a precarious question. Many teachers find the situation in ELT disconcerting, while publications on these questions multiply by day. Although many authors published and keep publishing on varieties of English which are required to teach at present, the author of the article under review refers to select recent publications and provides their insightful overview.
The article is structured conceptually and its every part, whether terminological (definitions of accent, factors causing affected pronunciation), analytical (foreign accent-related problems of non-native teachers), or applied (ways to minimize foreign accent of non-native teachers) is based on factual data, the relevant publications and focused, with the author's point of view leading in the argument. It is praiseworthy that, although the author is clearly for the academic training of pronunciation, he avoids any extreme or very emphatic claims. This is right and safe in the context when less enlightened teachers prefer to relax and tend toward 'global English' in which pronunciation does not matter.
I would not challenge nor object any statements of the author, although a few minor comments might concern very minor points, such as gender differences of the learners in mastering pronunciation, (as women have been assessed as "more precise than men in expressing and reading emotional cues" because of emotive emphasis in their upbringing, not because of their number in the classroom – shine.yahoo.com/parenting… 20 Sept 2012), or differences between a good ear in music and in pronunciation, (which is not the same).
To support the author's stance, I should welcome his conclusions, although I know that even recognised English language schools in Britain tend to promote the variety of English and, presumably, pronunciation, which their students require. The stance on the requirements for foreign language learners in foreign lands is somewhat different because teachers cannot be forgiven for their faulty pronunciation, as the author proves, and communication failure because of sloppy pronunciation, which I have witnessed personally, is an unarguable reason in academics' favour. This does not mean that students in sciences or business should be trained in pronunciation drills to achieve actor-like pronunciation, although the best even among these care themselves. Students in education and in language and literature should have special courses in pronunciation as part of their proficiency, which is the point of view in the article. To support the author is to say that pronunciation is not something arbitrary to be included or discarded in teaching: the teacher's duties and communication apart, inaccurate pronunciation closes much of language's subtlety, delicacy, and beauty to its inaccurate speakers. Foreigners can never achieve perfection in foreign pronunciation, so why should we work to corrupt something that crumbles of its own? Moreover, native speakers do notice crude and fixed liberalism in using English as a foreign language (Panel discussion, 'Who Cares about English?' at www.teachingenglish.org.uk). From time to time native speakers make their views known and they appreciate articulate speakers. Why should they welcome producers of broken English?
With kind regards,
Vilnius, Lithuania, 5 November 2012
Marija Liudvika Drazdauskiene
E-mail: liudvikadam@yahoo.com
Letter 2
STOP THE PRESS: Dictionary no longer a page-turner
Macmillan Dictionaries will no longer appear as physical books. The final copies are rolling off the presses at this very moment, and from next year, Macmillan Dictionary will be available only online.
Since its launch in 2009, Macmillan Dictionary Online has seen explosive growth and will now fully replace the print version in a transition that, according to Editor-in-Chief Michael Rundell, can only be a positive one.
With this migration to new media, Rundell believes that Macmillan's dictionaries have found their ideal medium: "The traditional book format is very limiting for any kind of reference work. Books are out of date as soon as they're printed, and the space constraints they impose often compromise our goals of clarity and completeness. There is so much more we can do for our users in digital media."
Macmillan Dictionary Online provides an English dictionary and thesaurus, as well as a popular blog about topical issues such as the use of pleb or omnishambles, a weekly 'Buzzword' column on newly-emerging words, and the crowd-sourced 'Open Dictionary'. Macmillan Dictionary Online also hosts the annual 'Love English Awards' and nominations for the 2012 prizes will open in late November.
Rundell emphasises that the move from print to online is a cause for celebration: "While printed dictionaries only get updated every four or five years, Macmillan's online presence means we can add new words and phrases on a regular basis, reflecting the ever-changing role of English as the lingua franca of science, business, academia and social media."
"Our research tells us that most people today get their reference information via their computer, tablet, or phone" adds Stephen Bullon, Macmillan Education's Publisher for Dictionaries, "and the message is clear and unambiguous: the future of the dictionary is digital".
Notes to Editors
The Macmillan Dictionaries series has won several awards during its lifetime, including the English Speaking Union's prestigious 'English Language Book Award' in 2002, and a British Council ELTon in 2004 for innovation in the field of English Language materials, with its CD-ROM and online editions.
Michael Rundell's blog post and 'The Macmillan Dictionary is going places' video will be available from 5 November. Michael Rundell is available for interviews.
For more information visit Macmillan Dictionary Online www.macmillandictionary.com and our dictionary blog www.macmillandictionaryblog.com
For more information please contact
Saskia Iseard | Marketing, PR and Dictionaries | Macmillan Education
Tel: +44 (0)1865 405 903 | s.iseard@macmillan.com | www.macmillaneducation.com
Letter 3
Editorial
This letter refers to an event which took place in Berlin in October. Watch out for similar LINGLE events in your area or on-line.
Hi Hania,
I just wanted to let you know we are running a special pre-release showcase event as part of EXPOLingua Berlin next week. We are launching Lingle for Language Schools next month and giving a special pre-release showcase at the EXPOLingua show.
Lingle for Language Schools allows English Language teachers, editors and schools to automatically create and publish lessons and activities using current authentic news. Your learners can complete activities online or in print, in the classroom or remotely. Teachers can track learner progress online.
Ian Butler, LINGLE
Lingle for language schools pre-release showcase at EXPOLingua Berlin
Letter 4
Hi Hania,
Thanks for your response. The project -- AccreditedOnlineColleges.org -- is a general information website with many resources useful to all people looking to further their education. The site discusses the offline and online educational paths one can follow to obtain a degree from an accredited institution. As a valuable resource to anyone interested in pursuing a degree, I thought the project could be of interest to yourself and others who frequently visit your site.
With October being National Disability Employment Awareness month we recently published an article that we thought would be of particular interest to you:
www.accreditedonlinecolleges.org/resources/accredited-online-colleges-and-disability-education/
Take a look and let me know what you think. If interested, it would be great to see it listed as a resource for those interested to refer to.
Thanks for your help. I look forward to hearing back from you soon!
Heather Costello
heathercostello0@gmail.com
Letter 5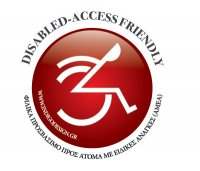 Dear Colleague,
Good news! There are more than 20 new lesson plans and worksheets available for free download on the Disabled Access Friendly campaign's website. As well as teaching EFL skills, all our material raises awareness about issues facing people with mobility disability.
Our material helps teachers to:
encourage students to bridge the gaps between ideals and reality
equip children to become responsible adults and caring citizens
stimulate children to think and question what they see and hear
By using our material you can be a teacher who makes a difference for tomorrow. For an explanation of how you can combine teaching EFL with raising social awareness, and examples of our lessons at all levels, please see the guidelines.
"The best schools and teachers have always done more than just prepare students for tests.
They raise awareness of the world in which we live and try to make it a better place".
Wishing you a great 2012-13 academic year!
The Disabled Access Friendly team
Letter 6
Dear Teacher,
The Tune Into English Roadshow had its dress rehearsal in Capaccio Scalo on the 28th of September – thank you to the Just Good English school for the wonderful reception the new show received. The tour's Autumn schedule begins in Liceo Scientifico "G.Spano", Sassari on the 5th October, with a special performance for the visiting Swedish students on the Comenius bilateral partnership. I would, of course, be delighted to visit your school and look forward to meeting you and your students again this year.
There is a 45-second video of the show on www.tuneintoenglish.com, as well as an extract based on languages in the world, published on the occasion of the European Day of Languages (26th September). You can also see a presentation of the Primary show.
Two of this month's additions to the Downloadable Worksheets section of the Teachers' Area of the website are featured in the new Roadshow. The first is Mamma Mia by ABBA – this is a Tense Review, written by regular contributor Mena Bianco. Mena's more political worksheets from last month have also been published on Amnesty International's website.
The second worksheet focuses on the Past Simple and rhyming words, using Train's recent hit Drive By. This was sent in by Gabriella Cucinotta from Reggio Calabria.
The third worksheet comes from Germany. Written and narrated by Rava Grudeva, Let's discover some facts about pop music is a listening exercise covering the last four decades.
This month's new Italian worksheet, written by Caterina Ziliani, is Banane e Lampone by Gianni Morandi, available on the Tune Into Italian page of the site.
Thank you to those teachers who have submitted worksheets, I look forward to receiving your contributions. Next month we will publish a worksheet for Tune Into London, a short video documentary based on album cover locations in the UK's capital city. Can you think of any exercises to help improve your students' English based on the video? Send them to us before 8th October - all published activities will receive a Tune Into English t-shirt.
You can sing along with the UK Top 10 Charts on the Speak Up site – updated weekly, there is a link on the Tune Home page too.
The Karaoke page of Tune Into English now features over 8,200 songs.
Finally, two of my travel articles have been published on the Fodor's Blog – the links for these are on the Guide Books page of the site.
I look forward to meeting you and your students in the coming months.
Best wishes,
Fergal Kavanagh
Tune Into English
www.tuneintoenglish.com