Editorial
The poem Caring now for tomorrow was written for the Universal Children's Day (celebrated on 20th November under UNO).
Three Poems
Ashok Chakravarthy, India
Menu
Universal children's day
Caring now for tomorrow
Merciless destiny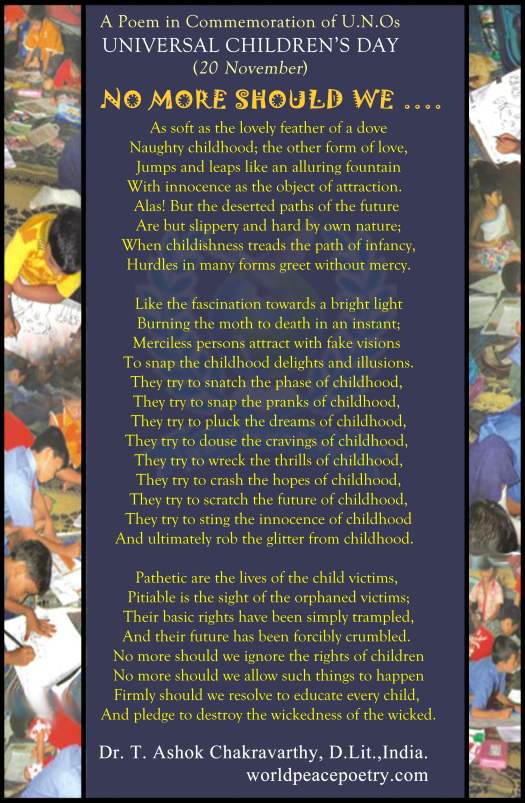 Until the human instinct is driven out,
Unless the egoistic attitude is thrown out,
How can we protect the rights of children?
How can we promote the welfare of children?
A blanket of chillness makes the night isolated
The otherwise busy streets of city, look deserted,
Covered by layer of fog, the street lights look dim,
Except for occasional barking dogs, it's almost calm.
A group of street children, perhaps rag pickers
Cover their dusty body with rubbish plastic papers;
With tottered clothes, covering body sucked to bone,
Almost lifeless they look, abandoned by every human.
The thoughts of desperation, add to deep depression
Piercing the heart of hearts in a fit of aggression;
With wars and natural calamities torturing the earth
With selfish motives, humans have staked all faiths.
On the desolate paths, fearsome and totally dark
Let our love and concern for children glow like a spark,
Care the children for treading a bright path tomorrow
Let us shower love on them and shatter their sorrow.
A renewed hope sprang
When the hours of dawn rang,
As usual, the dawning sun
Peeps through the glowing horizon.
Filling hearts with new delights
The birds of beauty fly out;
While the darkness fizzles out
They dispel all gloomy thoughts.
Today is but unimaginable
Tomorrow is yet unpredictable;
Fearing the outcome of today
I feel loving the bygone day.
The worn out life in isolation
The mood of clouding dejection,
Yes, moment after moment
Chase me without any respite.
Down, I fall umpteen times,
Yet, manage to balance at times,
But, the reprieve I deeply seek
Evade me, giving a mystic slip.
The perishable human body
Is bound to worn out one day,
And, when life is in the ascending
Remember, everything looks peeling.
And, in the merciless hands of fate
Doomed, we become a tool of hate;
And, the invisible tentacles of destiny
Ultimately grab us without mercy.