Short Book Reviews
Hanna Kryszewska, Poland
Hanna Kryszewska is a teacher, teacher trainer, trainer of trainers. She is a senior lecturer at the University of Gdańsk, and EU Teacher Training College where she trains pre-service teachers. She is co-author of resource books: Learner Based Teaching, OUP, Towards Teaching, Heinemann, The Standby Book, CUP, Language Activities for Teenagers, CUP, The Company Words Keep, DELTA Publishing, and a course book series for secondary schools: ForMat, Macmillan. She is also co-author of a video based teacher training course: Observing English Lessons. Hania is a Pilgrims trainer and editor of HLT Magazine. E-mail: hania.kryszewska@pilgrims.co.uk

Hooray!: Starter Student's Book, Hooray! Starter Teacher's Books, Hooray! Let's play. Teacher's Book G. Gerngross and H. Puchta ( 2012) Helbling Languages. ISBN 978-3-85272-444-, ISBN 978-3-85272-445-4 and ISBN 978-3-85272-450-8 , pp. 158, pp.148 and pp. 196, respectively. The Starter student's book and Starter and Let's play teacher's books, I have had a chance to look at, are part of a 3-level course for young learners. They come from the well established, if not ground breaking, team of coursebook writers for YL. (The authors have written among others Playway, a course which has marked a significant change in teaching English to young learners). The authors promote a SMILE approach. SMILE stands for: skill-orientated foreign language learning, multi-sensory learner motivation, intelligence building activities, long-term memory storage through music, movements, rhythm and rhyme and exciting sketches, and stories and games. Each unit also introduces two elements relatively new in teaching English to young learners: thinking skills training such as 'focusing attention and matching pictures that are the same', and values such as 'developing appreciation for the value of friendship'. (The latter are introduced through value based stories). However, in the materials I have looked at there is not much CLIL – Content and Language Integrated Learning. Basically, the course offers everything that young learners need to learn English successfully and develop as human beings in English classes. The course is very flexible and comes along with a lot of additional support material such as a teacher's DVD-ROM, a TT film ( very educational), editable letters to communicate with parents, extra worksheets for lessons, and interactive whiteboard software, not to mention the usual components such as flashcards, story cards, stickers and a puppet. The audio recordings come in two versions: British and American English. The pupil's book is visually pleasing both with regard to the style of drawings and colours. I am sure generations of pupils and many teachers will enjoy using the course, especially those taught English using the Playway course .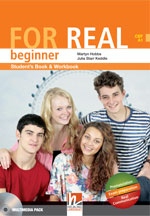 For Real - beginner. Student's Book and Workbook and Fore Real – Beginner. LINKS . M. Hobbs and J. Starr Keddie (2012) Helbling Languages. ISBN 978-3-85272-429-4, 978-3-85272-429-4, pp 236 and pp 48, respectively. This course book is a new addition to the For Real series; elementary, pre-intermediate and intermediate levels appeared earlier. The subjects which are covered in the book: talking about yourself, home, people, student life, everyday activities and going out are within the interests of the target group of the course. The approach to the topics and choice of texts will motivate and engage young learners. Each unit develops the learner's communication skills, the four language skills, provides regular grammar and vocabulary input and pronunciation practice. The students are encouraged to self assess their progress with regard to CEFR ( in the material not quite accurately referred to as CEF). The course also prepares the learners for language exams such as KET and Trinity Speaking GESE. The coursebook and workbook are integrated which will mean that the coursebook cannot be handed down from student to student which is not very environment friendly. On the other hand the student's book+workbook are accompanied by LINKS which is a resource of a mixture of additional materials introducing CLIL - Content and Language Integrated Learning, intercultural issues, communication practice, pair work activities, and a vocabulary bank. I don't quite see why these materials are not included in the coursebook, as one publication, whereas the workbook is. Personally I also believe that some of the photography is quite artificial, like the photo on the cover. Overall the course and all its components are good value for money especially when you access the on-line platform at www.helbling-ezone.com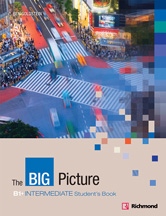 The Big Picture. Intermediate Student's Book. B. Goldstein. Richmond. (2012) ISBN 978-84-668-1061-6, pp.168. This book is part of a six-level course for young adults and adult learners. The core course offers between 90-120 hours of teaching, but considering the wealth of additional digital and online materials there will be many more teaching or learning hours in self-access. The Big Picture learning platforms with videos, blogs, games and message boards will definitely appeal to the learner. When you open the book and browse through it, you are struck by the quality of most of the photographs and their impact. They are thought provoking and instantly draw the learners into the topic they relate to. Another thing worth noticing about the book is the treatment of vocabulary. The author works on single word levels as well as on the level of fixed expressions, word partnership and collocations in this way working on the learners' effective learning and retrieval of lexis. The treatment of grammar is similar with authentic language usage and useful high frequency expressions. However, some of the vocabulary and grammar exercises are very predictable and a bit unimaginative. The units in the course are skills based and language input leads to language output towards the end of the unit. Teachers will enjoy the 'test generator' which allows teachers to write their own tests.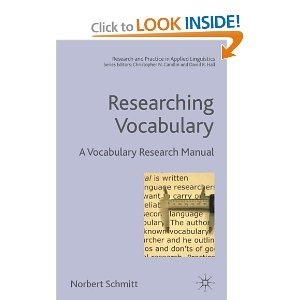 Researching vocabulary. A vocabulary research manual. N. Schmitt. (201o) Palgrave Macmillan. ISBN 978-1-4039-8536-1, pp 356. This book will be welcome by all those who want to carry out research and publish papers on how vocabulary is learnt, both in the mother tongue (L1) as well as in the foreign language (L2). It points the reader towards various aspects of learning vocabulary such as types of research, to date knowledge of how vocabulary is learnt, what strategies are used, and how modern technology can aid researchers. The chapters in the book include a number of areas like how vocabulary is used and learnt, formulaic language, measuring vocabulary learning, testing vocabulary acquisition, and using language corpora. I am sure readers will welcome the list of names of researchers who are key figures in the field. This is an extremely useful checklist of references when you are writing a thesis or an academic paper on learning vocabulary. Personally, I would have liked to read about the distinction between vocabulary and lexis, as many experts in the field address the issue in their books and papers.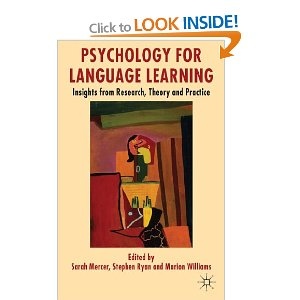 Psychology for Language Learning. Insights form Research, Theory and Practice. ed. S. Mercer, S. Ryan and M. Williams. (2012) Palgrave. ISBN 978-0-230-30115-3-4, pp 265. This new book on the role of psychology in language learning is a joint publication of 20 contributors who have presented their research results, ideas, theories and/or voiced their opinions in sixteen texts. The overall aim of the book is to present a variety of psychological constructs and examine the role of psychology in language learning from various perspectives. Each text (except for the Introduction and Conclusion) follows the same pattern; it summarises the research in the given field, presents current thinking about the field, gives an example of research conducted by the author or authors of the given chapter, and finally possible future developments and directions in which the given field may develop. The contributing authors are experts in their respective fields and they have a lot to share with the readers. The book focuses on a number of areas such as the identity of the learner, how learners perceive themselves as learners and how this perception affects how they succeed and their motivation, the role of affect and recognition of learning styles in the learning process, learner autonomy and self directed learning. The readers need to be aware that although the editors have done a great editorial job turning the individual contributions into a whole book, it still is a collection of texts by various authors who have different approaches and methodologies, and so it is not a watertight map of the field to date. Despite this or perhaps because of this the book is an extremely interesting read and highly educational. It is also a beautiful example of excellent academic English for those who want to write their own papers.

Please check the Methodology and Language for Primary Teachers course at Pilgrims website.
Please check the Methodology and Language for Secondary Teachers course at Pilgrims website.
Please check the Teaching Advanced Students course at Pilgrims website.
Please check the Teaching Academic English course at Pilgrims website.
Please check the How the Motivate your Students course at Pilgrims website.
Please check the Building Positive Group Dynamics course at Pilgrims website.
Please check the How to be a Teacher Trainer course at Pilgrims website.