Reviews of The United States of America and England
Neil McBeath, Oman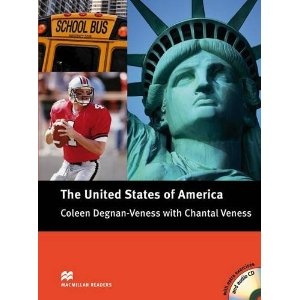 The United States of America
Coleen Degnan-Veness and Chantal Veness 2013
ISBN 978-02300-43641-1 Pp. 94
Non-fiction graded readers are always in short supply, so these two are to be welcomed on those grounds alone. An additional bonus, however, is that they both come with audio CDs – for The United States of America, the entire script is read by a woman who uses a Mainstream U.S. English (MUSE) pronunciation, while the reader for England is a man who employs Southern English pronunciation.
As both these books are from the Macmillan Reader series, it is hardly surprising that they share many features. Both are ten chapters long, and have chapter-by-chapter comprehension questions- "Points for Understanding". Both also come with a glossary, and a single page of "Useful Phrases". They are both graded at Pre-intermediate level, which means a base of 1400 headwords, and they qualify as A2/B1 on the CEFR scale.
So far as content is concerned, The United States of America covers Freedom, The USA Today, Traditions and Holidays, Cities and Sights, Nature and the Environment, Daily Life, Sports, Entertainment; American Heroes and Looking Forward. The intended readership would appear to be teenagers, as Daily Life (Pp. 43-47) is concerned with the education system rather than with the world of work.
Freedom (Pp. 8-15) has illustrations of Washington, the Pilgrim Fathers and the signing of The Declaration of Independence, but also carries a photograph of Sitting Bull and gives full coverage to slavery and the Indian Wars. Similarly, American Heroes (Pp. 60-68) features Pocahontas, along with Lincoln, FDR, Martin Luther King, Rosa Parks, JFK, Bill Gates and Steve Jobs. Individual teachers might question the first of those names, but it is hard to object that the list is not eclectic.
Again, in Cities and Sights (Pp. 26-33) there are brief sections on New York, Los Angeles, Chicago, Houston, Washington D.D., Philadelphia and Boston. This is about as broad coverage as could be hoped for in seven pages, and it would easily lend itself to more extensive project work. On balance, therefore, The United States of America is a good book, and possibly slightly better than its companion volume.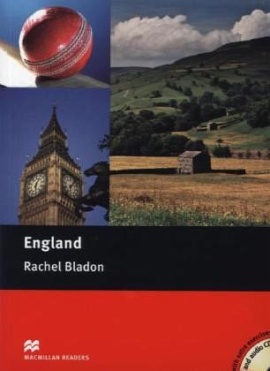 England
Rachel Bladon 2013
ISBN 978-023-0-43642-8 Pp. 95
Oxford Macmillan
England offers A Short History, England in the Modern UK, Traditions, Cities and Sights, Nature and the Environment, Daily Life, Sports, Entertainment, English Heroes and Looking Forward. In this case, Daily Life (Pp. 46-51) is not exclusively school-based, but leads into a rather vague consideration of leisure (i.e. shopping) activities.
A Short History (Pp. 7-15) offers a rather breathless overview from the Romans to the start of the twentieth century. Quite why contemporary teenagers would feel that history stopped in 1901 is not explained, but as this account omits mention of both the Spanish Armada and Napoleon, there may be an agenda of not mentioning any wars.
English Heroes (Pp. 64-68) offers illustrations of Shakespeare, Nelson's Column and the late Diana, Princess of Wales, but also mentions Sir Isaac Newton, Darwin, Sir Francis Drake, Captain Cook, Churchill and Margaret Thatcher. Then realizing that the term "hero" has been stretched to the limit, Rachel Bladon gives us Florence Nightingale, Charlie Chaplin, all four Beatles, Handel, Sir Edgar Elgar and David Beckham ALL on Page 67. This is less eclectic than confused.
Cities and Sights (Pp. 30-39), moreover, goes for more overkill. London, Oxford, Stratford-upon-Avon, Warwick, Cambridge, Birmingham, Stoke-on-Trent, York, Castle Howard, Liverpool, Manchester, Blackpool, Durham, Bath, Bristol, Glastonbury, Brighton and Canterbury all get a mention. At one level, this is a fabulous grand tour, but at another, less might have been more.
And yet….. If you are a teacher working on a Summer School in England, then this book could well be invaluable. Unlike The United States of America, it has immediate face validity, and the chances are that its broad sweep will encompass at least one place which the students have visited, or with which they are familiar. Single copies could be used as prizes. They could also be bought as souvenirs, and England would make the most motivating of class texts.

Please check the British Life, Language and Culture course at Pilgrims website.
Please check the Methodology and Language for Secondary Teachers course at Pilgrims website.
Please check the CLIL: Content and Methodology for Secondary Teachers course at Pilgrims website.