From the author,br> My Mom is always the number 1. Thanks for being a great mother. Two men helped me feel the pride of success. Thanks to my father and my husband. The text was inspired by Dr Claude Hurlbert.
Through the Eyes of a Writer: A Journey of Learning, Discovering, and Transforming: Part 4
Entisar Elsherif, Libya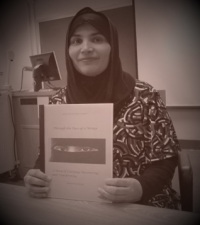 Entisar Elsherif comes from Libya. She is a doctoral candidate at the Composition and TESOL program at Indiana University of Pennsylvania. She completed her coursework, an ABD, and currently working on her dissertation. E-mail: e.elsherif66@yahoo.com
"Dedicated to all second language writers, especially Libyan ladies, who fought for their lives their existence, and for the taste of success."
Menu
Writing the qualifying manuscript
A new literacy experience
Epilogue
Afterword by Sarah E. DeCapua
References
My first semester at IUP was Fall 2011. I had survived a semester full of tensions as a result of living the horror of war. My mom had survived a sniper's shot; I had lost relatives; and now I was in a new academic environment, living a new writing experience. The Qualifying Portfolio is the Composition and TESOL program's evaluation that guarantees continuation in the PhD program. As a PhD student at the English department, I was required to submit a Qualifying Portfolio after only one semester. The portfolio included rewriting two course papers according to instructors' feedback, preparing an annotated bibliography for a manuscript, writing a publishable manuscript, choosing a journal, and writing a letter to the editor of the chosen journal. I did not find rewriting my papers by adding what was pointed out by my instructors as a problem. I was, however, frightened by the thought of a publishable manuscript.
I expected a course that would show us how to write a publishable manuscript. So, I was disappointed when I noticed that we were supposed to write the manuscript without getting any academic support. I questioned myself: "How come the department doesn't have any kind of support that would help us understand how to write publishable articles?" I wondered: "How would I be able to write the manuscript without any kind of background?" I expected some kind of instruction similar to those I took at the Newcastle University: "How to Write an Assignment" and "How to Write a Dissertation." Now I know that somehow, some of my frustration was because of this expectation. I should not have compared my experience at a UK university and its teaching styles with those of a US university and its teaching styles. After spending exactly three semesters at IUP, I know that these are different institutions and I understand why my ministry insisted on changing our countries of study.
I expected that the introduction to research would include some instructions about writing publishable manuscripts. It did not. When I realized it did not, I nearly screamed, saying: "If I knew how to write a publishable manuscript, I would not have been here, I wouldn't have left my country!" To be honest, I was not sure about how to write a publishable manuscript. My questions about how to write a publishable manuscript made many underestimate me and bothered many others. I did not care about those who made me think I was the biggest loser. All I was thinking of is that I came to learn and I have the right to learn. This frustration came to an end when Dr Hanauer assured us that he would show us how to write it. I felt relieved. I felt like a drowning person who had been saved in the last moment.
After teaching us how to write academic poetry and poetry inquiry research, he started another journey showing us how to write a publishable paper. My success in writing the paper that was about first language use while writing in the second language raised my self-esteem and encouraged me to write the manuscript. This made me prepare for my QP with joy.
This does not mean that writing the QP was an easy task. First, there was the stage of choosing the topic. I had to choose a topic that is not overly used or discussed. I was so interested in Turnitin. Turnitin is an "internet-based plagiarism detection service" that allows students and educators to check documents for any possibilities of plagiarism. I decided to study this kind of service not only for a personal interest but also I wanted to propose using this in our college, back there in Libya. Teaching large-size classrooms is not easy. I was thinking that using Turnitin would help Libyan teachers and students in the same time. I thought that my topic was perfect. I planned everything. I had searched and prepared my annotated bibliography in no time. I was so excited. When some of my friends were in the stage of looking for an appropriate topic, I was ready to start my second stage in preparing the QP.
One day, a voice from inside told me to ask Dr Hanauer about his opinion of my topic. During the next lecture, without thinking so much, I approached him and asked him about my topic. His reply was that I should definitely not write about it. I was so annoyed, especially when I sent more topics and he said they were "local." All I could think of was: "OMG.. How and where will I find another topic? I'm going to fail." I spent days nagging and blaming myself for asking him. I still do not know why I asked him. At that time another professor told me that it was suitable for the QP. I think what is known as women's sixth sense made me ask Dr Hanauer; feminine instinct did. Yes, I was so angry that I had to change my topic because of him, but this change made me live an exciting experience that I would never forget, especially after recording it here in this book. My advice to those who might experience similar situation: "Do not panic. Think and seek advice. You'll be able to find a more interesting topic."
As I was so frustrated, I lost the ability to think alone. I then decided to ask for help from our program director, Dr Sharon Deckert. I thought the she would be the best person that would help me get over the restless moments. I sent her an email and she welcomed me. I told her what had happened and she reacted as I had expected; knowledgeable and patient to help me see myself. She noticed how I talked about plagiarism and ecocomposition with different tones. She said that I was more enthusiastic when I talked about ecocomposition whereas I was talking about plagiarism without showing any kind of interest. I was looking for a topic that would be easy to deal with. I didn't want to take any risks. Since I knew and read about plagiarism a lot and my knowledge about ecocomposition was very little, I feared the new topic. But, her comments and how she discovered my new interest made me leave her office with excitement. Before I entered her office, I felt as if all of the heavy weight of the world was on my shoulders. After leaving her office, I was like a bird. I felt that I was so light that I could fly. All of those worries and fears disappeared as soon as I left her office. Isn't it amazing how some people can be the right ones in the right place? Dr Deckert is the right academic in the right place.
As a result, my QP topic changed from 'Turnitin' to 'ecocomposition'. At that time, the only book I had read was by Derek Owens, which had made me so excited to read more. As soon as I got home, I went to Amazon website and wrote 'ecocomposition' and ordered the books that were interesting and I thought were closely related to the topic. Then I logged into my IUP library account and ordered books from PALCI and interlibrary loan services. Everything was planned and my worries disappeared.
After the first phase of reading, I contacted two of my close friends who had passed the QP and are very successful writers: Dr Hayat Messekher and Lilian Mina, to discuss my idea with them. They encouraged me to continue reading in the area and be more focused. Their feedback was supportive and helped me focus more in my second phase of reading. What was amazing in this stage was that the more I read the better I understood and the more I become attached to the field. After that, I decided that I should send Dr Hurlbert an email to get his feedback. My email was so brief to avoid breaking the rules of the QP. I wrote my Research Question and the names of the compositionists that I thought had the answer to my question. His reply was that my plan "seemed a good idea".
At that moment, I decided to write my first draft. I also stopped contacting others and discussing my idea. I just wrote what I thought would be a good start for my paper. After a week, I changed the style of the paper and added more content. When I finished my second draft, it seemed awful. As I read it, I felt that it was scattered and unfocused. I knew that this draft was not the satisfying finished product. In fact, I kept changing the manuscript's organization of ideas until I felt that it was the right way to introduce them. The final finished draft was a week before the submission date. I kept working on that text until the last moment. From this experience, I learned not to freak out and work on a text as long as I felt it needed more work. I felt as though the more I read my text and made changes, the better the final draft became.
Although I was dealing with a topic that I did not have any previous idea about, I didn't feel any kind of stress during the preparation stage, even when I changed the organization many times. I felt satisfaction. I felt that I did my best whether it met the QP requirements or not. I was astonished with the fact that I was so calm. I guess the days I spent away from some students who were freaking others out with their stress made me feel safe. Hayat and Lilian were the kind of people who would calm you down and encourage you to do your best. Supporting emails and messages from my close classmates Sharon, Sarah, Eda, and Bader were exceptional. All of them were saying: "You can do it. We can do it."
The due date for submitting the QP was February 15th, 2011. Strangely though, all the stress and fear started on the submission day. I felt exactly as Sarah DeCapua said: "I can't imagine myself relaxing, since I'll be awaiting word on my QP. I may have turned it in, but the hard part has only just begun as I wait for others to decide my fate." Sarah is another classmate that influenced me in many ways. Her wisdom and advice were amazingly influential. What she said reflected exactly what I felt. Her words explained what I was going through since I submitted my QP. Isn't it amazing how others' words express our feelings and emotions? That's why we learned how to quote other people's work, to be able to acknowledge the people who express our feelings and thoughts in a way we failed to. I guess when we learn how to quote, we learn to be honest to others' words and respect the fact that they were able to produce what we couldn't.
The results were on Friday the 17th. On that day, my country was living a special day, celebrating freedom or what is known as "3irs el7urriya عرس الحرية" that can be translated as "freedom wedding celebration." I kept checking my Libyan friends' and relatives' Facebook posts. All of them were posting posts about their happiness with the end of the dictatorship era and the beginning of a new era. I was so happy but felt that my happiness lacked something. I was so nervous and afraid. I was not sure that I was going to pass the QP. I felt that I was waiting on top of a cliff and the results of the QP either provide me with the bridge that would help me cross to the other side or would send me someone who would push me to my end/death.
I couldn't do anything. I was between my email and Facebook. Then I saw Bader's post. I felt happy for him. I asked myself why I didn't receive anything. Suddenly, I heard a beep telling me I received an email. I was so scared; I was shaking, and instead of clicking on the email to open it I closed my browser. I couldn't think. My Arabic inner self was praying. My English inner self was saying, "Oh my God" repeatedly. When I managed to sign in again, I clicked on the email. I was reading and praying. I was looking for something that assured me of passing. When I saw the word "passed" I started crying. My sons asked me, "Why are you crying? Did you pass?" and then they asked each other, "Did she fail?" Taha came and took my laptop and read the email. He told them I passed and asked me: "why are you crying if you passed?" To be honest, until now, I don't know why I cried. After a while, my husband came back. He brought a cake and some meat to cook. He was so sure that I was going to pass. When I told him that I passed, his reply was, "I told you."
I called my sisters and told them I had passed. It was very late in Libya but they stayed up waiting for my results. My youngest sister said that although she doesn't usually cry, she cried this time. They knew that my success was not only for me, it was also for the benefit of my children. After leaving the Libyan system, two of my sons are studying in the US senior high school. Not passing the QP would mean ruining their academic future as well. My situation was different from others who come to study abroad because of my sons' academic future.
I sent a message to a close friend telling her I had passed. After that, I returned to my Facebook and posted that I had passed my QP. At that moment, I noticed that emails had been sent in alphabetic order. I felt so sorry for Sharon because she was the last one to know her results. I understood how she felt and prayed for her. Then, she posted that she had passed too.
Now, many days after getting the results of this evaluation, and after passing the QP, I feel so grateful to Dr Hanauer and Dr Deckert. Yes, Dr Hanauer made me live a terrible week, thinking of what to do and which topic to choose. But, after discussing this with Dr Deckert and writing my QP about ecocomposition, I know that this frustration led me to a new field, a field that would become one of my research interests. This experience taught me not to hide behind topics that I know. As an academic, I learned taking risks in dealing with new topics and eventually learning more about them. Writing QP manuscript was not only to pass and become a PhD candidate. For me, it was a big step in becoming a professional. It also helped me to leave the comfort zone to broaden my research interests to topics that would benefit not only people in my country but also people around the world. Having the courage to follow such knowledgeable academics like Dr Hanauer and Dr Deckert gave me the opportunity to grow academically and professionally. Therefore, this experience of writing a publishable manuscript is valuable and rewarding. Before writing the QP and living the experience of submitting and passing this significant evaluation, I didn't see its value. Now, I know that being able to deal with these challenges made me ready to meet the challenges of conducting research and writing the dissertation.
When I was studying at Newcastle University, I was lucky to take a course that was taught by a legendary applied linguist. His name is Dr Vivian Cook. He taught us Core Issues in Second Language Acquisition. Since studying at that university was an adventure of discovery at that time, being in his class was a wonderful and rewarding experience. The first lectures were filled with the excitement of being taught by a great linguist like him and then all my concentration was focused to what he taught us. I still remember my final paper. He gave us the chance to choose from different topics and I chose to write about Krashen's Input Theory. His written feedback was, "Quite a sympathetic and well-reasoned account that gives a clear description of Krashen and then a fair judgment of his critics. Clearly written and going beyond the main sources (though Cook 93 is a bit too prominent). Every year I consider whether to stop teaching Krashen! But people still get excited by his ideas" (Cook, 2005). How would you feel if you were taught by him and were given this feedback? I guess you would feel exactly as I felt and still feel; blessed and thankful. Although I took this course, I decided to take Second Language Acquisition at IUP because of what I heard about the course.
In the Spring semester of 2012, I registered in Second Language Acquisition. I was so attached to the course because it was taught by Dr Dan Tannacito. Everyone I met was praising him as being so knowledgeable, and that they had learned so much from his classes. Although the class was online, I decided to take it. I knew that it would be a very challenging experience. But what I went through was far from what I expected. To be honest, my understanding of online course came to be different from what it exactly was. Embarrassing, though it happened. I thought that I would be watching some kind of video that included him teaching us "similar to regular classes" while we were at home. I thought it would be a virtual classroom. Apparently, my imagination was so far from the reality. My understanding of online discussion turned to be different, too. I was expecting an online discussion that we would be hearing and responding to each other as if we were in a real class. Silly me. Now, I'm convinced that I still have a brilliant imagination.
For some people, blogging and discussion forums are what they might call "piece of cake" assignments. For me though, they were new experiences that won't be easily forgotten. Believe it or not, I had no experience in blogging at all, even in Arabic. I had never written blogs before. The only blogs I read were related to famous authors, academics, and Aydee's blog. Aydee Ferrer is from Philippines. She is a hardworking colleague who worked at our Faculty of Education for years and left Libya during the up-rise. She has written her experiences during the Libyan revolution. Her blog was about what she saw, heard, and felt before and after she left Libya.
Compared to her, I had never written or posted anything except for the posts on my Facebook. Even with Facebook, I'm a new user. The need to keep my family updated brought me to Facebook, and then Libya's conflict made me addicted to it because it connected me with many Libyans around the world.
Anyway, let me tell you about my new experiences in the Second Language Acquisition course. What made this course exceptional was not only the readings and what they introduced but also the new literacy experiences. The course requirements introduced a new world of literacy to me that included blogs, discussion forums, and life story research.
I was asked to read the assigned readings and write reflections that would eventually be posted on the blogs we created in the IUP's blog services website. Then, I was asked to post comments on the assigned readings and respond to my classmates' posts and comments on the discussion forums. I know that you would be surprised that I present those as new experiences. Those who grew up playing with technology would find this funny. However, those who grew up in an environment where technology was the least requirement would be very understanding. Unfortunately, this is true. In my country, teaching was and still is done in the traditional way.
Another remarkable literacy experience that was introduced by Dr Tannacito was the Life Story research. This experience started with the preparation of the IRB protocol. IRB is Institutional Review Board for Studies Involving Human Subjects. Going through the procedure of preparing, writing and submitting this form with Dr Tannacito showed me its significance in protecting people who participate in research that includes human beings. After getting the approval, the process of conducting the interview and then transcribing it was remarkably valuable. I learned how to prepare the interview questions, how to respond, and how to transcribe. As I wrote the narrative of this interview, I saw the value of this kind of research. "Life stories can help other people see their lives more clearly or differently and perhaps be an inspiration to help them change something in their lives" (Atkinson. 1998, p.2). This quote summarized exactly what I discovered while I wrote my story and my participant's story.
Although the process of conducting and transcribing the interview was exhausting, I found writing the narrative enjoyable. I am sure that I will teach this to my students in Libya. Yes, we live in a culture that appreciates stories and storytelling. It is essential to show my students how they can conduct such research and enrich the Libyan context of second language learning experiences. As a final task, Dr Tannacito asked us to write reflections on our Life Story Research experience and post it on our blogs. Here is what I wrote:
For me, as a teacher and a PhD student, writing reflections were one of the most exciting experiences I had this semester. I felt that those reflections were giving me the chance to reflect on an academic experience in a personal way. So, somehow, these reflections personalized the readings of this course. In this final blog, I would like to reflect on three points that include my experience with Life Story Research, what I've learned, and why I found this approach to be special.
In my experience with this project, there were many challenges in conducting it. The first challenge I faced was related to my participant. My first participant was a friend and a colleague in Libya. Her life experiences made her the perfect choice that would enrich my study linguistically and culturally. Her husband died very young and left her with two babies. She worked as an English teacher, raised her children, and studied her MA degree while being a single mom. She was successful in many ways. She agreed to participate and everything was ready. Unfortunately, she had a sudden heart operation a day before the interview. So, I had to look for another participant. I wanted my participant to be a woman in order for me to ask her my questions without any cultural boundaries. But all of the women I approached refused to be videotaped. Then I started thinking of having a male participant. To be honest, it was difficult even though I've been working with men for a long time. But, to question a man about his life experiences was somehow difficult. I contacted many Libyans who were studying in Coventry, DC, New York, and Ohio. All of them were willing to participate. They were looking at it as the mission of helping a Libyan friend. So, I decided to conduct the interview with Mahamed since he was Amazigh. Amazigh people are one of the Libyan ethnic groups who spoke two languages: Arabic and Tamazight. Choosing Mahamed gave my study more depth since he was able to communicate in three languages: Arabic, Tamazight, and English. Here I faced another challenge of asking a man I did not know anything about his life. Culturally, it was difficult for me. But thanks to Mahamed, he was behind the success of those interviews, even when I faced a new challenge that was caused by Skype, our means of communication. The first interview was recorded via Skype and when I revised it, I found out that from an hour of recording, I only had half an hour which made us decide to have a third person with him to record the interview. Then, the camera stopped and forced us to stop the interview. Mahamed's friend suggested using his iPhone which facilitated the recording of the interviews. Mahamed was suffering from Hay fever that made us postpone the final recording many times. As you can see, this was frustrating and time consuming. Another type of challenge was because of technology. I had no prior experience with streaming. If Bader, a classmate, did not help me, I wouldn't have been able to submit my videos on Time. Thanks Bader (Jazak Allah 7'er جزاك الله خيرا).
I believe that Life Story Research is a significant part of our life. Since we are raised in cultures that value story-telling, this type of research adds significance to second language learners' learning experiences and provides supportive evidence to the existing theories. As a first time Life Story researcher, I did not see this value until I started transcribing the interview. I was able to see relevance between the theories we had studied and Mahamed's language learning experiences. For me, the following quote makes sense more than ever and summarizes the whole experience:
"An individual life, and the role it plays in the larger community, is best understood through story. We become fully aware, fully conscious, of our own lives through the process of putting them together in story form. It is through story that we gain context and recognize meaning. Reclaiming story is part of our birthright. Telling our story enables us to be heard, recognized, and acknowledged by others. Story makes the implicit explicit, the hidden seen, the unformed formed, and the consuming clear" (Atkinson, 1998, p. 7).
From conducting the interviews, I learned how to ask questions that provide more valuable and reliable data. I also learned to listen to others and form questions that ask for more details. Some questions were not in my list of questions that I prepared for the interview. I also learned how to transcribe using transcript symbols that are relevant to my interview. This motivated me to take a course in Discourse/Conversation Analysis one time in the future.
I am not going to relate Mahamed's story to the theories we have studied because we already have rich evidence on that. My comments are related to what every Libyan student went through. If Libyan students' American professors or teachers were not supportive during the revolution, they would not have been able to succeed in their courses. Conflicts and wars affect students' motivation and willingness to study and learn. However, teachers' support changes students' attitudes and motivates them to succeed. The evidence is there in Mahamed's story. I would like also to note the significance of using technology in motivating students to learn. What Mahamed observed while he was assisting an American teacher is how a language class should be.
My final comment is that I'm planning to include Life Story Research as one of the course requirements when I get back to teach in Libya. I believe that Life Story Research should be included not only in Second Language Acquisition courses, but also in writing courses where students learn about others experiences with language learning.
I have always thought about writing my parents' stories in Arabic. My father travelled a lot because he used to work in Libyan embassies around the world. When I told him that he should write his story, he said that he would like me to write it. Now, I know how because Life Story Research showed me how to.
I didn't get an A in the poetry inquiry assignment. I got a B. But, I did achieve something better than the grades; my inner self, what Mary Rose O'reilley called 'inner peace'. Yes, indeed. Dealing with those issues that I had never thought of or discussed helped me heal and discover a new me. This journey of writing my story, the story of the role of writing in my life, my literacy experience, raised my confidence and self-esteem.
I had the opportunity to notice the role writing played in my life, personally and academically. Reading and writing in Arabic opened the boarders of the Arab world. I was able to communicate effectively. However, reading and writing in English, opened up the whole world in front of my eyes. Writing in English and in different styles taught me the value of the word. I didn't learn the distinctions between personal, creative, and academic writing in Arabic, but, I practiced these kinds of writing in English. English also opened up doors for computer-mediated socialization. I am no longer afraid of networking and blogging in English.
After reading a page of my story in class, I learned that sometimes one should change names just to take readers into consideration. What one thinks is right, others might consider wrong. I've also learned that freedom of speech has boundaries, too. There is no complete freedom. So, the writer has to consider the audience/readers, no matter how personal the thoughts are.
As a language teacher, I have come to understand the significance of writing to language learners. Writing journals, poetry, short stories, and reading enhanced my language proficiency as a second language user. It also helped me as a teacher in that it showed me how beneficial different forms of writing can be in my classroom. I've learned that topics that are related to the students' personal life and interests are the ones that help the learners write better. I've learned that there should not be distinctions between academic writing and creative writing.
I've been telling you this story for days now, since Dr Claude Mark Hurlbert told us that we were going to write it on the first day of his course. Dr Hurlbert is a professor who gives his students space to grow, not only academically and professionally but also socially, personally, and emotionally. I didn't write this story in one day or a week. I didn't start writing it as it should be. I didn't start by writing the introduction or the first pages. I started by writing what you're going to read now first. The words in CAP were my first words of the story and then each day I added a paragraph or more. This story started to shape especially after passing the Qualifying Portfolio.
What I'm burning to tell you is this:
NEVER UNDERESTIMATE YOURSELF.
What I'm dying to tell you is this:
BELIEVE IN YOURSELF.
No matter how difficult things look, or you think that a certain task is 'mission impossible', there you go. Read my story. I'm not Tom Cruise who has never failed in his four missions. To put it simply, I'm a Libyan lady who has dreams and does her best to make them come true. In this journey, I learned a lot about my capabilities, weaknesses, and qualities. The experience of writing 20 poems in English and now writing the story about the role writing has had in my life has enriched and inspired me. For some, the poems I wrote might seem nonsense. Others might think that they are not related to poetry. For me, they reflect my understanding of academic poetry and through them I have preserved real life moments.
So, do not let others who think they are better than you try to convince you of that and interfere with your self-esteem. If you listen to them and stop listening to yourself, I'm 100% sure they will affect your inner peace and transfer their stress to you. DO YOUR BEST. That is my main point.
When I started writing this book, it was supposed to be a 12-page book as one of the Teaching Writing course requirements. However, I couldn't prevent myself from writing all the previous pages that you have read. I was so attached to the idea of writing about my experience. Dr Hurlbert asked us to include a foreword written by one of our classmates. However, I wanted to have an afterword that is written by my friend. I was lucky that my dear friend Sarah DeCapua agreed to write the afterword for my book. Her words were blessings sent from her ever-loving heart. Since I worked with my dear friend Anyango and we did some collaborative writing together, I wanted her to proofread my story. I was blessed when she agreed to proofread my story. When it comes to spotting my mistakes, I'm a terrible proofreader. Anyango, however, has the precious gift of making texts flow and error free.
What made my day and filled my heart with pride were my professors' comments. In his reply to my email that included my story as an attachment, Dr Dan Tannacito wrote: "That is a wonderful piece of work. Thank you for your comments on your experiences in this class but thank you mostly for becoming an authentic voice in the community with whom you are sharing your valuable reflections" (April, 2012). When I met Dr Hanauer at Dr Deckert's office, I asked him if he received my story. His answer was that he did and he encouraged me to publish it. What surprised me was that he was willing to create a web site to publish my story which motivated me to think about getting it published in a journal or as a book.
On the last day of the Teaching Writing course, Dr Hurlbert gave us letters that included his response to our books. In this letter, Dr Claude Hurlbert wrote: "Your book stands as statements to your journey through life as a strong, intelligent, ethical, able and creative teacher and writer. Your book dramatizes the importance of your cultural inheritances and the national pride you live. I admire the topics it takes up and I am impressed by its design.
I particularly like the end of the book – the greatest lesson of all, maybe, that when you are really writing, you are really writing for you and not for a grade, you are writing to come to yourself, to bring yourself into being. The Expressivists tell us that writing is a process of meaning making, what they do not tell us is that when we make meaning we are also making ourselves. What a gift it is to be human when we decide to live up to our highest motives and values! Writing can be a vehicle for helping us make the most of the precious gift called life. It is our responsibility, after all, to do good with it" (May, 2012).
Another encouraging response filled me with pride and joy was from my academic manager Amanda Ross. She was so supportive and a hard working person. After she read an early draft of this story, she wrote back saying: "Although it may be easier in some ways for native speakers to write narratives or literature, I think you stepped up to the challenge quite nicely. In addition, you were able to craft a work that is engaging and personal, something that requires more than "just" being able to speak English (and which many native speakers struggle with!). One of my favorite writers, Vladimir Nabokov, has several novels in his native language, Russian, as well as his second language, English. Like you, he is able to convey both a story and his own writing personality in his English works. His Russian writing is also excellent, but does have a different rhythm/voice, much as I imagine your Arabic writing does.
It's wonderful that you have had the encouragement and support of your family, professors, and colleagues/classmates – as I could tell from the afterword, it's obvious that you have had a positive influence on the people in your life as well. And although you may not be the Italian-Arabic translator your mother imagined, you certainly are doing translation of a different kind by conveying your own thoughts, opinions, and stories through your writing, in whatever language you are using as a medium/tool to do so." Her kind words made a difference and made me decide to include them in my story. This way, her words will live forever.
When Dr Hurlbert told us that one of his former students published her book and she sent him an email with the link, I decided to contact the editor of the same journal to ask if I can publish mine. I was not sure since my story was longer than the others. After submitting my book, I sent my story to the editor of the online journal Humanising Language Teaching. Days passed then I got a reply from Ms Hania Kryszewska telling me that she accepted my story and it was going to be published in five parts. Although a Libyan publisher had agreed to publish it as a book, I decided to publish it in this journal because I believe it would give my story a new kind of birth. It would be read by any one from around the world. For me, HLT was the best place to introduce my experience with writing and share it with second language teachers and writers around the globe.
My daughter is watching TV. Someone is knocking my door. I think she is my dear neighbor. On my way to open the door, one of Kawther's favorite cartoons, titled Arthur, starts. Some of the lines of its theme song say:
It's a simple message that comes from the heart.
Believe in yourself
For that's the place to start.
Before I open the door with a welcoming smile, as I hear myself singing the cartoon's theme song "what a wonderful word to say," using word to say instead of world to play, my daughter rushes to open the door knowing that her dear Mrs. Grace is knocking on our door. Mrs. Grace Daukas is a very generous neighbor. She's the one who makes me feel I'm not alone. My family considers her as one of our relatives.
Sometimes you think that you're alone, especially when someone whom you consider very close leaves you. However, you always forget that God never leaves you alone. He sends you faithful people who enlighten your life and enrich your personality. And Mrs. Grace and all the names I mentioned here are good examples.
My dear neighbor is here. I have to go. Since I've been telling you this story for more than a whole semester, I think I will leave you this time with encouraging words. I'm leaving you with my dear friend's quote. Aydee posted these words on her Facebook page when she finally signed her new contract with our university, Tripoli University.
"Everyone should follow this dictum:
DREAM....BELIEVE...AND MAKE IT COME TRUE...
It happened to me, it can happen to you, too."
The first words Entisar ever spoke directly to me were, "I've been praying for you." It was the second week of classes in our doctoral studies in the Composition and TESOL program at IUP. We were in Dr. Hurlbert's Tuesday evening class, chatting with some of our classmates before class started, still getting to know each other in those early days of studying together. During a lull in the conversation, Entisar leaned over to me and quietly spoke those words with such kindness and sincerity in her eyes that I nearly wept for how touched I was. She was referring to a presentation I was scheduled to give in Dr. Hanauer's class. I was scheduled as the first person in the class to present, and since most of us were afraid of Dr. Hanauer at the beginning of the semester, Entisar knew that I might be nervous not only because I had to give a presentation in class, but also because none of us knew how Dr. Hanauer would respond to our presentations, but we would soon find out—with me going first in an attempt to meet the professor's high standards. I was moved that Entisar would reach out to me in such a thoughtful way, despite our cultural differences. Entisar is a Libyan Muslim. I am an American Christian. Each of our cultures has bred animosity toward the other. But instead of allowing external forces to dictate our behavior toward each other, we relied on a factor that seems all too uncommon these days: To paraphrase the Reverend Dr. Martin Luther King Jr., we judged each other not on exterior appearances, but on the content of our characters. As a result, Entisar did not hesitate to reach out to me on that Tuesday evening. And when she did, I knew that we would be friends. I am deeply honored that she would include me in her personal story, and ask me to write this Afterword.
In this story of Entisar's journey, she makes it clear that she is continuing her family's legacy of education as a cherished and honorable means of advancement in society. Her journey of learning languages—Arabic, Turkish, and English—and struggling to master them is an inspiration to anyone who fears failure or wonders if he or she can rise to a challenge. It doesn't matter what the challenge is; anyone can relate to the feelings and emotional struggles Entisar describes. Her dreams of academic achievement, fears of failure, and emotions that run the gamut from exhilaration to exhaustion when studying in a non-native language can help anyone, even students who are native English speakers, because of her honest descriptions of the academic challenges she has faced and overcome. Entisar's story also bridges differences, whether they are language, cultural, or religious, because she writes honestly of her own struggles in ways that other people can relate to. Entisar has demonstrated in this story of her language learning that those who love us and believe in us have great power in our lives to help us achieve our dreams, and to keep moving forward even when we stumble over obstacles along the way.
Like many people who do not recognize how outstanding they are, Entisar fails to see herself as others see her: as a woman who is intelligent, talented, engaging, warm, wonderful, wise, faith-filled, and peace-loving. Her friendship has been one of my greatest joys in studying here at IUP. In the very near future, time and distance will separate us, but I pray our friendship will be sustained for many years to come. I look forward to carrying out the plans we have made for a joint academic venture with our students—hers in Libya and mine in America. I hope that the friendship and shared understanding we have forged together in spite of our differences will be an example to others who desire a more peaceful world.
With this story, my dear friend Entisar has achieved her dream of writing and publishing in English. I cannot think of anyone who deserves it more. - May 2012
Atkinson, R. (1998). The life story interview. Thousand Oaks: SAGE.
Cook, V. (2005). Personal communication.
Hurlbert, C. (2012). Personal communication.
Oreilly, M. R. (1993). The peaceable classroom. Portsmouth, NH: Heinemann.
Owens, D. (2001). Composition and sustainability: Teaching for a threatened generation. Urbana, Illinois: NCTE.
Tannacito, D. (2012). Personal communication.
The theme song of the Arthur series on PBS kids TV channel.