Letter 1
Dear All
As some of you may be aware we have a 'Downloads' area of the Delta Publishing website where we offer articles and extracts from our titles to download for a limited period of time.
We find that teachers very much appreciate this free download area, which also helps promote the overall Delta Publishing list.
From September we intend to offer Downloads taken from the 'C' sections of titles in our Delta Teacher Development Series. The idea is that by offering teachers a free insight into these titles, we will generate more interest and sales.
We intend to start in September with an extract from Part C of The Developing Teacher (the first title in the series), and we plan to follow this over the coming months with similar extracts from Being Creative, Culture in Our Classrooms and The Company Words Keep. Further extracts from other titles in the series would follow in 2015 and beyond.
If you have any queries on these plans please don't hesitate to drop us a line.
With best wishes
Nick & Helen
Letter 2
Dearest Editor,
I have just lost a quite long mail to you, today the internet has been playing nasty tricks, probably because of capricious rainy weather here also... Oxford! WAW! WAW! WAW! Thousand times waw!
I remember having found your LINKEDIN profile while searching also, and I also obviously sent you a contact invite, though I know you are too hectic, and I could see the Oxford academic information but I suppose the Pilgrims Canterbury school being around and also very tough, the Oxford entreprise association is also an as natural and as logically occuring phenomenon to you Pilgrims people, as academics within the Pilgrims world and beyond. :):):):)
There are still many things that I need to cover up on in a mail to you soon.
One of the bottom lines, as in my previous lost mail, is that I see you as a most valuable person, like a character in a novel and movie, that is set to portray an extremely educated and tough lady moving to and fro in the English society, that has access to many high class circles through her wit, experience and wisdom. Well, at least within the toughest edcuated ones, she has got all access! She has got many contacts and friends, and obviously also trainees and novices, to further carry on similar perspectives and life views. :):):)
Well, I know that Polish people have got history in giving precious people to humankind. In terms of languages, literature, starting from Conrad onwards, I think there is a big pool of potential,endeavor, interest, with respect to English of course, still, in people like you, of different ages, and in schools and colleges and present generation, many ambitious people that do everything passionately and naturally. Working on writing projects and nurturing, fostering such noble future activity might seem a naturally occuring phenomenon, but it is not, since around this world, in many places,native speaking places, there is also general disinterest and disregard towards literacy, schooling and culture as valuable things to be carried on.
Also in Romania, we have a rather consistent historical tradition, that of the latest couple of centuries at least, in terms of culture, literature (but in French, as an overwhelming trend))(I promise to feedback on that). Moving onwards to nowadays, from the start of the 20th century, the between the wars period, has also been very important in terms on valuable culture and science people from Romania. The communist period obviously knew censorship and twisting/distorsion of potentially good (but still worthy to be read), literature, but also important contributions in sciences, inventions, medecine, aeronautics,computers, etc). Some/many of these important contributors have died as immigrants/citizens of honor abroad. Probably similar to Polish phenomenon or other phenomena. Also currently we have thousands of students in all top universities, Oxford included, as you know.....
Unfortunately, there is a strong bias between the present honest, sincere and dedicated generation of talented intellectuals and well intended people and the crisis time, abusive, and mafia/organized crime type governments and people that totally lack spine and strain in some countries.....
History in general has always been abusive, genocidal and full of humanity crimes "contributions" befallen upon future generations.
Brain drain will go on and on, and people will totally lose their orientation during the to and fro of tendencies, obscure worldwide interests, so called governments and general confusion. (…)
Hoping to feedback more consistent things to you soon enough
Sincerely yours,
Consuela
Letter 3
Dear reader,
The following list is open-ended, so please add to it and reflect on the suggested question, personally or interpersonally.
NONKILLING: has this newly coined concept-term to the English language vocabulary brought a concrete dimension to peace ?
NONKILLING: the global decision that would make all types of killing cease ?
NONKILLING: the human right to living a life free from the threat of killing ?
NONKILLING: An approach to Political Science that would global relations constructively transform ?
NONKILLING:A life-supporting system that would elevate human and animal oreservatuib ?
NONKILLING: A principle that would provide the basis for communicative Nonkillingization?
NONKILLING: A policy advocating the need for all diplomats and international relations professionals to seek communicative harmonization ?
NONKILLING: An approach to Art advocating the creation of nonviolent,peaceful, genres aimed at the development of a new type of Nonkilling Civilization ?
NONKILLING: A vision-mission inspiring scientists and inventors to dedicate their talents to human-animal-plant life preservation ?
NONILLING: A complementary philosophy to spirituality,to religious faith ?
by Francisco Gomes de Matos, a peace-nonkilling linguist,Recife,Brazil
Letter 4
Dear Hania Kryszewska,
This summer, Cambridge Scholars Publishing is delighted to announce the Meet Our Authors campaign. We are proud to have over 50,000 authors, many of whom publish numerous titles with us over several years. This monthly newsflash will give you an opportunity to hear about their experiences of publishing with us, straight from the source.
Our publishing house was established with the aim of providing a forward-thinking service that champions original thinking and puts our authors at the heart of everything we do. We are always genuinely keen to hear our authors' views, both praise and criticism, and this feedback often informs the direction of our commissioning focus and publishing policies (e.g. our new royalty scheme).
We hope you will enjoy reading our authors' thoughts, which reflect the wide spectrum of academics who decide to publish with ourselves – both established scholars and leading-edge thinkers, and those bright minds who are just embarking on their professional journey.
Best of all, we are offering a 50% discount on our featured authors' titles.
This month's authors…
Professor Graeme Harper: an internationally published fiction writer, scriptwriter, and cultural critic, who has published more than 20 books with a variety of publishers and over 140 articles and chapters. Please click here to read his thoughts.
Our 'Young Scholars': Dr Wojciech Drąg and Dr Julio Peiró Sempere. Click here to read their thoughts and to learn about our policy of dedicating 10% of our annual publication output to the work of aspiring academics
Best wishes,
Christine von Gall
Deputy Editor
Cambridge Scholars Publishing
christine.von-gall@cambridgescholars.com
Letter 5
Dear Hania Kryszewska,
Welcome to the August instalment of Meet our Authors! We received a phenomenal response to the launch of this campaign last month, so thank you to all who have written to us to share your views and appreciation of the initiative.
We hope you will enjoy reading about this month's authors and their thoughts on what distinguishes Cambridge Scholars Publishing from the rest of the academic publishing community. As with last month, we are offering a 50% discount on our featured authors' titles.
This month's authors…
Professor Ron D. Petitte: a retired U.S. Army Colonel and a recipient of the George Washington Honor Medal, who heads the discipline of Politics & Government at Bryan College in Tennessee, and directs the Bryan College Center for Leadership & Justice. Ron's Justice & Mercy Initiative aims to counter human trafficking, with a special emphasis on the plight of women and children. Please click here to read his thoughts.
Our 'Young Scholar', Dr Roxana Bîrsanu, is an Assistant Lecturer at the Romanian-American University, Bucharest. She has published numerous translations of French and English works, both fiction and non-fiction, and has co-authored textbooks on general and business communication in English. Click here to read her thoughts.
Best wishes,
Christine von Gall
Deputy Editor
Cambridge Scholars Publishing
christine.von-gall@cambridgescholars.com
Letter 6
Hi Hania,
Just please tell them that they can google them using my name and Amazon ebooks. It's very simple. All of the information will show up on Amazon for ebooks. My cousin , Emery Daly, is the Editor, and Arjay D G Ramos is the Illustrator. They can also contact CEO, Ms. Denise Cuyegkeng, of FULLY BOOKED in Metro Manila, Philippines to purchase the hard copy , published by Cerafic Publisher. I'm forwarding this message to them to facilitate things And I'd like to make a special request to you to show any poetry that you published in HLT to Wislawa Szymborska, your Nobel Literary Laureate & poetess, who lives in Krakow, Poland. I corresponded with her a few times and she sent me a very nice note from Krakow..
All the Best Wishes,
George
Letter 7
Dear Hania:
Concerning CEO, Ms. Denise Cuyegkeng, of FULLY BOOKED in Metro Manila, Philippines, I'm referring to my DICTIONARY OF SECOND LANGUAGE TEACHING TECHNIQUES: A PEDAGOGICAL TREASURE - published by Cerafic Publisher IN THE PHILIPPINES, APRIL 23, 2014. They are marketing it. Dr. Francisco Cardoso Gomes den Matos wrote the blurb for this dictionary. They are no longer marketing my 2 literary books - SELECTED POEMS OF LOVE, LIBERATION, & BEAUTY; & SELECTED SHORT STORIES, ESSAYS,& VIGNETTES FOR PEACE, JUSTICE, & RECONCILIATION - co-published by Cyberwit.net, an Indian publisher, and me.. But those two books are also ebooks on Amazon with my Cousin Emery Daly as Editor and Arjay D G Ramos as Illustrator. I'm forwarding this message to them.
Warmly,
George Patterson
Letter 8
Dear Hania Kryszewska,
Today, 4th August 2014, marks 100 years since the outbreak of the First World War. Many commemorative events are taking place across the globe to mark the centenary of this significant milestone in world history. Cambridge Scholars Publishing has commemorated 'The Great War' by participating in a novel memorial – one made only of words. 'Letter to an unknown soldier' is an online project, with contributions from all sorts of people – schoolchildren, pensioners, students, well known writers and personalities, and the British Prime Minister. All of the letters will be archived in the British Library, where they will remain permanently accessible online. Click here to read more.
As part of our support for the centenary, we are also offering a 50% discount on one of our best-selling titles related to this milestone. The Great War: Localities and Regional Identities, edited by Nick Mansfield and Craig Horner, has received critical acclaim for its depiction of wartime Britain, through a return to local experience and individual memories. Click here to find out more about this "provocative and stimulating volume".
Our August discount campaigns, with a time-limited discount of up to 60%, include:
Book of the Month – this month's must-read is The Holocaust: Memories and History, edited by Victoria Khiterer, Ryan Barrick and David Misal. This title contains "valuable and thought-provoking correctives to common perceptions and misperceptions". To find out more and receive a 60% discount, please click here.
The Editorial Advisory Board's 'Recommended Reads' – this month Professor Tony Eccles, Professor Luiz Moutinho and Professor Jon Nixon have selected their pick of our best-selling and critically acclaimed titles, at a 50% discount. Please click here to view the selection.
New Releases – be the first to know about our new and noteworthy titles. Our Editors have hand-picked 6 titles that are generating a buzz, spanning the following subjects: History, Business & Economics, Philosophy, Religion, Language and Literature, and Cultural Studies. Best of all, these are reduced by up to 50%. Please click on our homepage to view the selection.
Happy reading!
Christine von Gall
Deputy Editor
Cambridge Scholars Publishing
christine.von-gall@cambridgescholars.com
Letter 9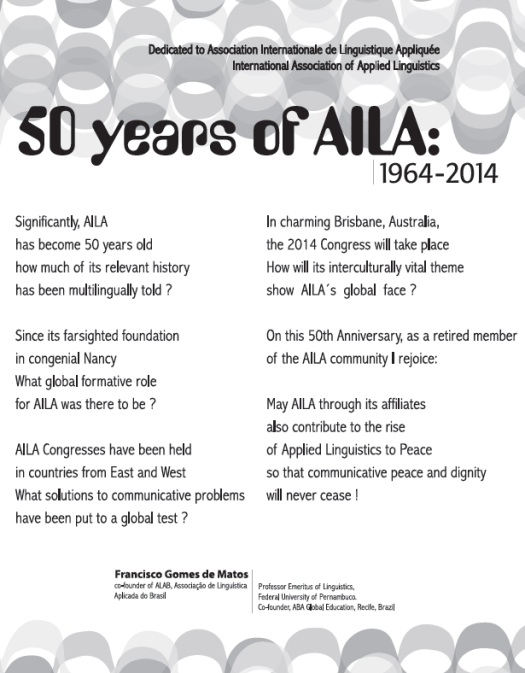 Letter 10

Disabled Access Friendly at IATEFL's web conference
Dear colleague,
IATEFL is an International Organisation for Teachers of English as a Foreign Language that aims to link, develop and support English language teaching professionals worldwide.
The Disabled Access Friendly campaign is proud to have been invited to make a presentation at IATEFL's first Web Conference Hot topics across borders in ELT. The event will take place on 18th-19th October 2014.
Disabled Access Friendlys presentation is on Saturday 18th October at 18h45 UK time (GMT +1). We will give you practical guidelines on how to use our innovative and award winning material to embrace social improvement through ELT and develop a humanitarian approach to language teaching.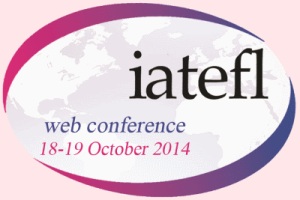 This event is free to everyone. You do not have to be a member of IATEFL to participate or have special equipment or computer skills. You just need an ordinary computer with broadband access and speakers or a headset.
Click here to find out more and register in advance for free to be sure of a place. Once you are registered, you will later receive more detailed information and instructions on how to log on.
It will be a great pleasure for us to be able to meet online both teachers who already support our work in raising awareness about mobility disability through the ELT classroom, and teachers with whom we have not yet had contact.
We hope you will join us!
The Disabled Access Friendly team.
Disabled Access Friendly
www.disabled-accessfriendly.com
Like Our Facebook Page:
www.facebook.com/DisabledAccessFriendly
Follow us on Twitter:
http://twitter.com/DAFCampaign