From Whiteboards to Web 2.0. by Daniel Martin: The Resourceful Teacher Series, Helbling Languages
Daniel Martin, Spain
Daniel Martin has written Activities for Interactive Whiteboards (Helbling Languages), which was nominated for the British Council ELTons Awards, Actividades para pizarras digitales interactivas (SGEL), Inglés, Internet y Pizarra Digital (self-published and available on Google Books) and Pop Songs 2 (Helbling Languages). He is also a teacher and a regular Pilgrims trainer. He's currently writing materials for a new textbook series.
Menu
About the book
Sample activity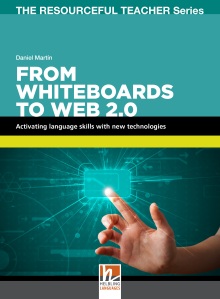 From Whiteboards to Web 2.0 is a new methodology book containing 81 activities that contemplate combined use of new and old technologies both in and outside the classroom setting. Like its predecessor, Activities for Interactive Whiteboards, this is a recipe book offering –flexible- step by step guidance in each of the proposed activities plus variations and a follow-up.
From Whiteboards to Web 2.0 presents, however, a fresher and more inclusive approach to using technologies by taking into consideration the different realities of classrooms. To start off with, it is interesting to notice that the word "interactive" is gone. According to the author, many schools opt to equip classrooms with a set up of a computer and data projector rather than with considerably pricier interactive whiteboards. In addition, internet connecting devices such as laptops, tablets or smartphones are seeping their way into the classroom environment. These -substantially- smaller devices can be considered, in the author's view, interactive whiteboards as well; as they are computers we can interact with by tapping on what is displayed on the screen. Finally, older technologies, such as pen and paper, are very versatile and efficient tools that can perfectly fit in with new technology-driven approaches to teaching and learning. From Whiteboards takes a look at these classroom situations and offers activities for teachers to try in class with combined uses of large whiteboards (interactive or not), smaller ones, pen and paper and human voice to activate language skills. The Internet (hence the term "Web 2.0") is the medium and resource for the activities: Twitter (used as a lexical tool), Google (language chunks), online noticeboards (constructing knowledge), voice and video recorders (activating speaking), pronouncing dictionaries (creating and exploiting customized word lists) and many more.
The book also comes with video tutorials (available online) on how to use most of the referenced tools. There are two video tutorials for each tool: the first one focuses on how to use the tool. The second one centers on didactics and shows the tool from an English teaching angle with practical examples.
3.24. Vague language
| | |
| --- | --- |
| Focus | Spoken grammar: Vague language |
| Level | Upper-Intermediate to Advanced |
| Time | 10–15 minutes |
| ICT Skills | Browsing the Web; taking screenshots (optional) |
| Preparation | 1 Select two or three language chunks that are common examples of vague language used by native and proficient speakers of English. Here are some examples to choose from: |
List completers: and things like that, or something like that, and that kind/sort of thing, and stuff like that, and things, and stuff, or whatever, or something, and all that, and everything
Placeholders: thingy, whatsit, whatsername, thingummyjig
Generalisers: sort of, kind of
Hedging: I just sort of, I just feel like, I tend to, I'm not too keen on, I'm not very fond of
2 Go to Twitter and type one of these language chunks with inverted commas. Take note of six or seven tweets that are good examples of use. You can either type them on a slide of a presentation tool or a page of your companion software or take screenshots and copy and paste them. Repeat this for the remaining phrases. You may simply run a live search in class, which only requires thinking about what language chunks you want to have a look at.
In class
1 Write on the board:
- …promises/ideas/rumours/memory/feeling
Ask the students to think of an adjective that combines well with these nouns meaning imprecise, not clear. If they have trouble with it, give them the first letter: "v". If at this point nobody knows, say it yourself: vague. Ask: What is a vague promise? Can you draw an example from a real life situation? How about vague ideas and rumours? How about a vague memory or a vague feeling?
2 Now introduce the concept of vague language. Tell them that the casual use of these language chunks in spoken English is a good indicator to gauge fluency in speakers of English. Today you are going to focus on or whatever and and that sort of thing (or your chosen phrases). Do students use this casually when speaking, texting on the phone or chatting online?
3 Go on Twitter and type "or whatever" (using inverted commas). The actual use rate of "or whatever" is, as I'm typing this, of about 20 new tweets per minute. You can point this out to your class as evidence of how frequent the use of this language chunk is. Bear in mind that you may find offensive language. If you are not teaching adults, it might be a good idea to sieve through tweets before you see your class. These are some unedited tweets for or whatever:
@EMS_Kurama @catgilpatric @CameronDallas yeah!! I saw. That's so crazy I used to see that kid at school everyday now he's famous or whatever
Ill be up watching movies til 8 or whatever
SOMEONE SEND ME THE LINK OR WHATEVER I JUST WOKE UPP
oh rlly it's fine guys I'll just sleep on the floor or whatever
These are some unedited tweets including and that sort of thing:
Can't find anywhere that sells stretchers and that sort of thing in New York, help
I will be gabbling through some new ideas and that sort of thing at Phoenix Fringe of London wegottickets.com/event/227283
can anyone recommend a great printer for macs for printing project work, photos, printables, and that sort of thing?
Kirsty MacColl portrait by me, now available to buy on t-shirts, iPhone/iPad cases and that sort of thing: redbubble.com/people/slideru…
4 Let the students read the tweets and ask if they need help to understand them. Next ask them to write a tweet on paper using the target language chunks.
5 Invite the students to read out their tweets.
Variation 1 This activity centers around evidence of vague language on Twitter but you can also look for any other language chunks to show language in use.
Variation 2 Make a quick search on Twitter when a student asks you for a word in English, or when you are suggesting a better way of expressing a concept or when you stumble upon an interesting expression in a reading passage or listening extract. The students will be exposed to authentic and contextualised usage of those words and expressions.
Follow-up Encourage your students to use Twitter to find examples of new language chunks to help understanding and retention.

Please check the Teaching Languages Using Technologies course at Pilgrims website.
Please check the Using Mobile Technology course at Pilgrims website.